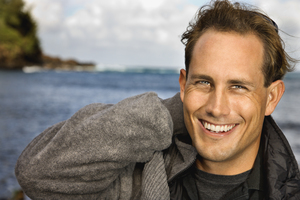 How To Have No More Loose,Uncomfortable Dentures
Researchers in Pakistan, while digging in a nine thousand year old Stone Age graveyard found human teeth with fillings in them. This means humans have been treating toothaches and tooth decay for many thousands of years. Can you imagine how primitive the local "tooth barber's" (dentist) tools must have been back then?
Later, In Rome and Greece and China, they did extensive research to find the best ways to have healthy teeth. They also were among the first to find ways to make false teeth to replace the natural teeth that had to be removed due to decay. They experimented with many materials such as: carved wood and the bones of animals, elephant and walrus tusks, gold leaf and gold wire – and more. Those primitive dentures were only made for "show" not for eating. So, when meals were served, the false teeth had to be removed to avoid chewing problems.
Around the 1500′s in England, the only way to have a toothache treated was like this: The person with the toothache went to a booth in the market yard of the local"tooth barber." The tooth barber had the person with the toothache lay on the ground with his head between the tooth barber's knees. Then, with a large audience watching, the tooth barber would first utter mysterious incantations and at then he would pour a mixture of herbs and urine in his patient's mouth to kill the "tooth worms" believed to live there in the thick tarter around the aching tooth. Finally, using fingers, thumbs, pliers and knives the tooth barber removed the ailing tooth. Result: no more toothache.
I tell you all of this to encourage you to take good care of your natural teeth. But if you should happen to have soft teeth that are decayed, you will eventually have to have your natural teeth extracted and then (almost immediately) have a modern plastic denture inserted in your mouth.
It takes some time to learn to: talk, eat and smile while wearing a denture. But, in time, youwill get used to wearing the denture.
Today, a new professionally made denture will most likely fit and perform quite well for a few months or even a year. But, nature will cause your jawbones and gums start to shrink immediately after your natural teeth have been removed. Then, your denture will start to get loose. Chewing will be more difficult and because the denture moves and rubs on your gums, mouth sores may soon cause you much discomfort and pain.
At that time, you will be glad to know there is a way, at low cost, to turn those painful dentures into dentures that are comfortable again.
The Weber Denture Liner Kit (Pat. Pend.) is designed to provide your upper or lower denture with much improved: comfort, support, stability and retention. These liners are always soft, mold-able and very easy to use and re-use and they require no mixing at all. Just lay the liner on the dry denture and it will self-adhere and give you comfort all day as you just naturally:eat, talk and smile with complete confidence. Order a Weber Denture Liner Kit – today! Satisfaction guaranteed or money back.
Sincerely,
Terry L. Weber
To order go to ORDER PAGE (in list on your left).
http://www.originalsbyweber.com/privacy/policy.htm